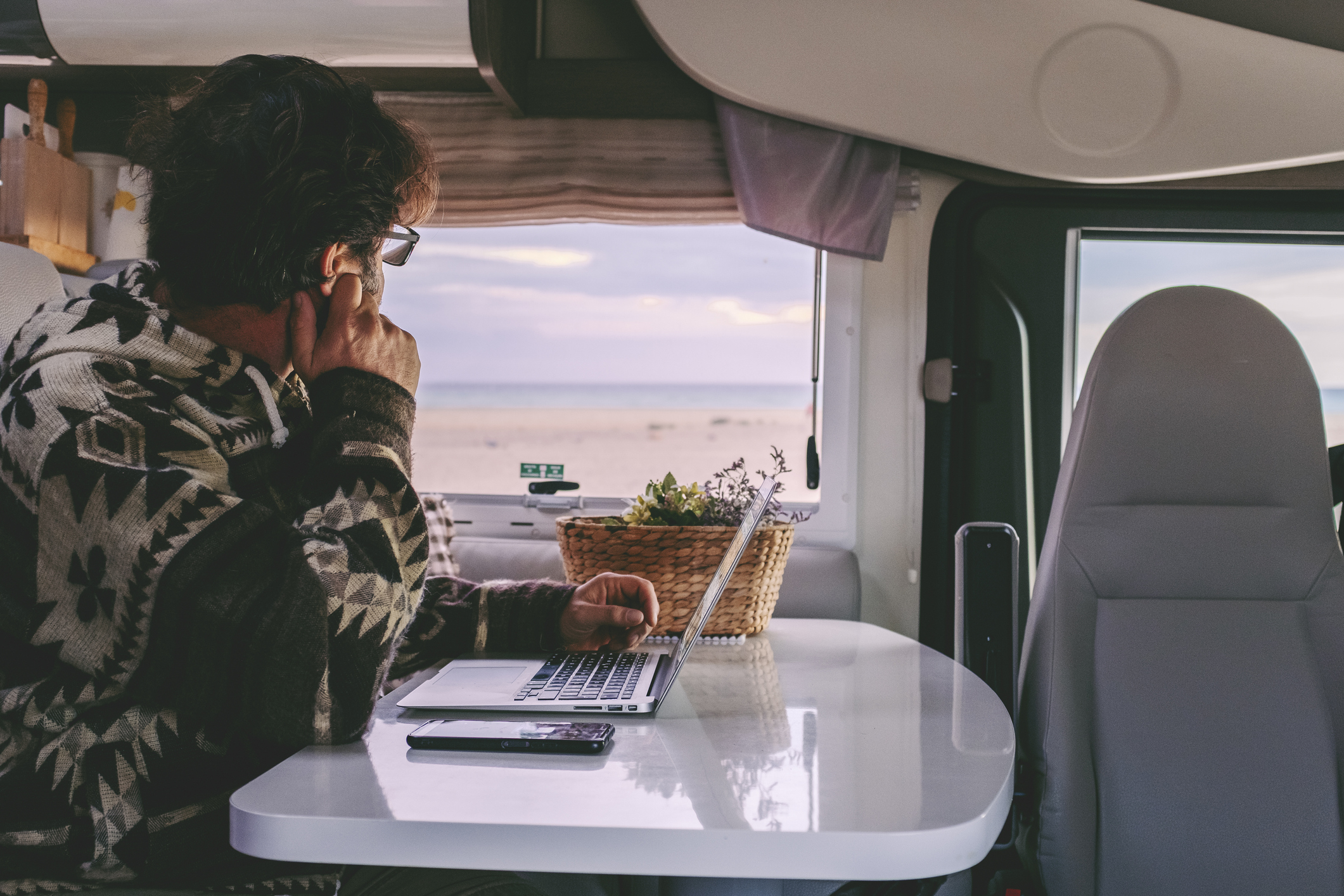 The Benefits of Working Remotely from an RV
WFRV: Working From RV
When you imagine the American Dream, it's not unusual for images of lush green lawns, white picket fences, and two-story Tudors spread across a sprawling suburb to flash through your mind. While that vision was the dream in the1950s, it's time to fast-forward and realize the new dream taking modern Americans by storm.
One particular housing trend today is long-term RV living and all the luxuries inherent to life on the road. Recreational vehicles, or RVs, aren't just wooing people because of their mobility, but it's becoming more apparent that RVs are perfect for climbing career ladders remotely. Instead of "working from home," it's not unusual to see more people "working from RV" on the road.
What are the factors fueling this new remote working trend? What are the impacts WFRV could have on your life? Learn about the benefits of working while RVing and get inspired to make the next big move in your life.
Working Remotely from Your RV: The Big Idea Behind This Housing Trend
Thrive in your career, work from the comfort of home, and explore the US? This dream scenario seems like a no-brainer for most, and it's becoming a reality as modern Americans explore housing options that fit their life and goals.
Remote work had been steadily growing in popularity for years before becoming the "new normal" due to the coronavirus pandemic. Modern technology made working from home a simple and accessible possibility while stay-at-home safety measures rendered it a necessity.
Remote work is here to stay and by 2025, it's forecasted that more than 36 million Americans will be taking advantage of it—an 87% increase from pre-pandemic levels. With this newfound ability to work from anywhere at anytime, it leaves many people considering long-term RV living as a new and attainable possibility.
After all, RV life empowers people to explore new corners of the nation, customize their lifestyle and create the experiences they crave, and save more money than if they owned a more traditional home.
Long-term RVing Is an Opportunity to Save Money
While the coronavirus pandemic boosted work-from-home rates, it also caused a jump in something else—the cost to buy a home. Fewer homes were available for sale in 2020 just as a wave of millennials reached prime home-buying age, which created a hyper-competitive market across the US.
This perfect storm of remote work and a housing shortage pushed people to reconsider where they live. It's simply no longer a requirement to pay exorbitant prices for homes in a big city in order to have access to popular or high-paying careers. In lieu of going house poor, there's another option: long-term RVing.
Living in an RV gives people the perfect opportunity to pick a home that fits their lifestyle, goals, and adventures ahead. In January 2021, the typical US home had a price tag of $269,039. That's up nearly 10% from January 2020 (and double the median home price in 1999). The price of buying a home is only getting steeper, but the price of purchasing a reliable RV is incredibly flexible and can be adapted to the needs of the individual buyer.
Similar to the rising appeal of tiny home living, long-term RVing inherently means also saving money on furniture, food, utilities, and beyond. (For instance, you're much less likely to invest in that massive collection of porcelain dolls when you're living in an RV.) Many full-time RVers report saving thousands per year compared with living in that stuck-in-one-place Tudor.
This promise for saving becomes even more real when you consider the costs of many metropolitan areas. For example, landing your dream job in Silicon Valley isn't a mandatory sentence of jaw-dropping rent prices. Instead, work remotely from your RV in Fresno while fully realizing your career and savings goals.
Long-term RV Living Is Efficient and Adventurous
When selecting your new home-on-the-go, you have the freedom to tailor the space entirely. Keep your layout simple with a cozy studio-style RV, or opt for amenities like pop-outs or fold-out porches that create dream office spaces during your workday. Or stay curled up with your laptop, favorite coffee mug, and stylish ZOOM background as long as your heart desires. No matter where you choose to work, one fact remains: Making the perfect space to work from in your RV adds efficiency to your life in ways you might not have expected.
Wherever you're most productive in your RV—whether that's sitting at a desk or taking in the breathtaking views wherever you're currently parked—your office is always just steps away. Eliminating an hour (or more) of commuting to and from a dreary office building means you get that time back in your day to do whatever you want. Have more time for new hobbies, meeting neighbors, side hustles, or exploring the excitement of your current homebase.
Investing in a home in a suburb ties you to one location, schedule, and experience. The culmination of remote work and RV living blows open those boundaries and makes seemingly anything possible.
Live the Life You've Dreamed of When Working from an RV
Without the confines of rigid schedules, commutes, working environments, and brick-and-mortar homes, your life becomes any adventure you choose. Dodge the pitfalls of being financially tied to an expensive home in an unpredictable market, and start customizing your day-to-day.
The freedom of RV living and working remotely means no experience is off limits. Spend your time settling into your pick of hundreds of RV parks and communities of manufactured homes across the US. Live amongst redwoods, oversee mountainsides, or listen to the lull of ocean waves all while answering emails and completing career-changing projects. All you need is a place to park, an internet connection, and a sense to live life to its fullest wherever you land.
The New American Dream Has Arrived
The suburbs will always be around for those eyeing a more traditional home-owning experience. But for those looking to take advantage of today's remote-first workplaces and seeking an opportunity to own a home without going broke, a new American dream is catching on.
There's never been a better time to live and work outside the box. Join the RV revolution and get ahead of the trend today. What are you waiting for?
Work from Anywhere. Experience Everything.
Find your next landing spot with Monte Christo Communities.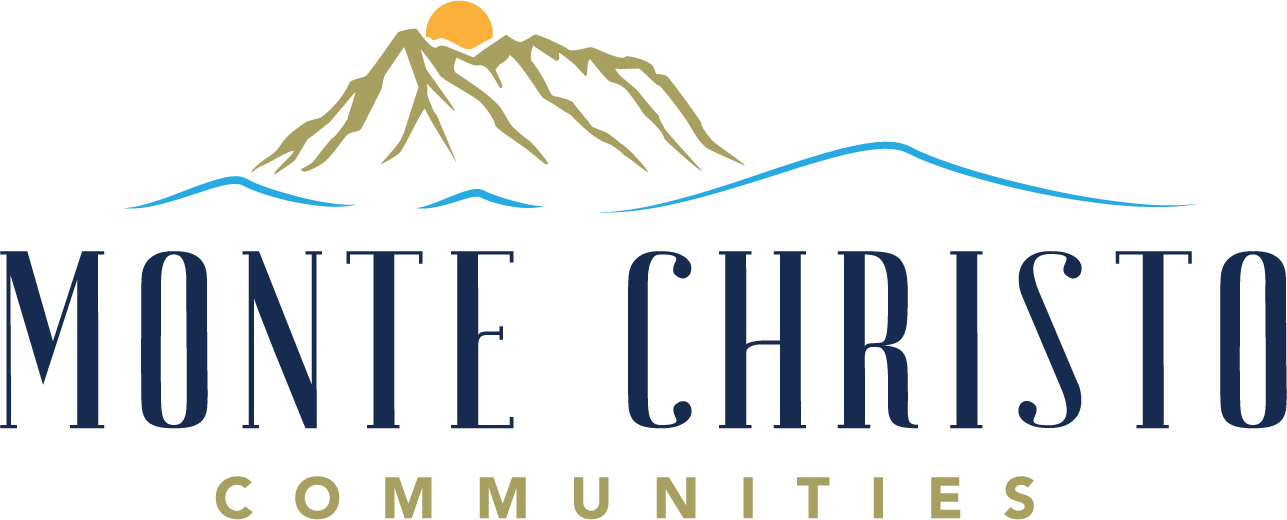 Featured Communities